The data privacy platform that delivers

complete peace of mind
Manage compliance long-term from one single source of truth.
Look no further for bulletproof data compliance
Use our web-based platform for all of your privacy needs, including contacting our in-house team of data privacy specialists. This combination of technology and consultancy is the most robust solution for managing data compliance.

Previously, all data privacy queries ended up on my desk. Now, the platform is the linchpin. Colleagues can find all their necessary to-dos, templates, documentation, and training courses easily and autonomously. And because we've decentralized, we can react to client queries and data privacy tasks much faster than before. It gives us a clear competitive edge.
An all-in-one privacy solution for your team
Get a live record of your compliance activities
Map your current data processing activities with unrivalled accuracy. Manage ongoing compliance and present our platform as a live, up-to-date record of your compliance activities to anyone at any time.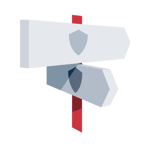 Onboard your entire team with ease
Our platform was built to be used by anyone, even data privacy novices – get onboarded in just a few days. Plus, it requires no integrations or set-up fees. It's instant-on and ready to use!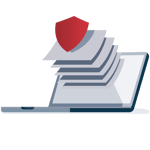 Automate busy work and repetitive tasks
Why should highly skilled privacy experts spend hours on cumbersome tasks? Thanks to our platform, human hours can be spent where they are really needed: solving your unique compliance challenges.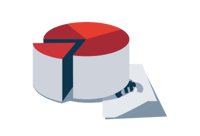 Enjoy consistent value
For a fixed monthly fee, any issues that arise are resolved promptly by our team of experts, while platform features help you to manage and automate compliance.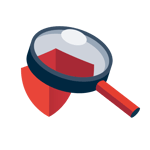 Privacy at your pace
Press pause whenever you need to! Our platform is available 24/7, so you can work on privacy at the time that suits you and your business best.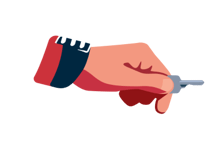 Guard your data securely
Benefit from a secure and 100% GDPR compliant platform. There is no risk of knowledge loss when a member of your team leaves: everything is stored in DataGuard!
Take on any compliance task with confidence
Manage compliance holistically from a single source of truth
Everything you need to manage compliance can now be found in one place. For too long, holistically managing privacy has required multiple tools and vendors.
Now, everything can be stored in one place, with everyone in your team using the same technology. Having total oversight of your privacy has never been easier.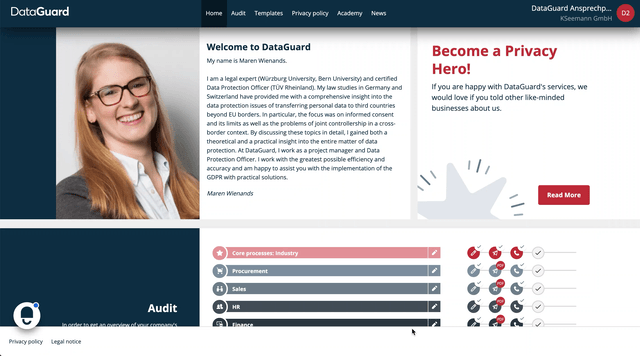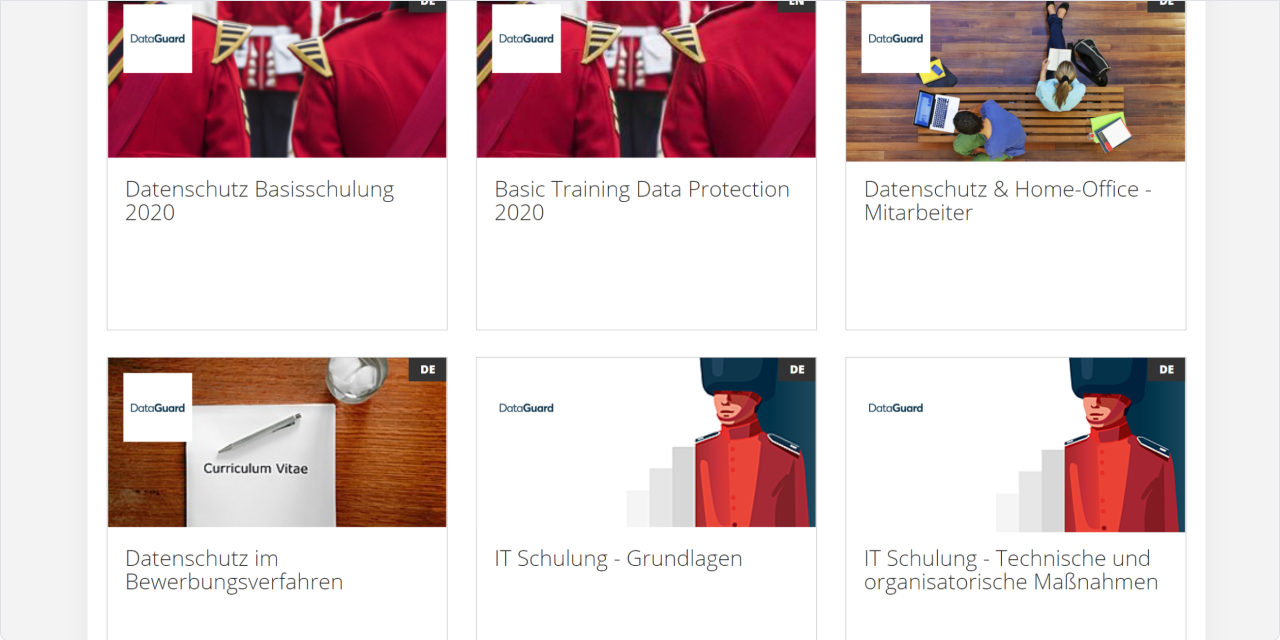 Train your entire workforce to build a compliance confident team
DataGuard Academy offers effective and interactive training courses for your entire team. Make sure your staff are following the right procedures and processes when it comes to company-wide data protection, information security, working from home, and more!
Uncover your biggest risks with an industry-specific audit
One of the first major milestones on your compliance journey is getting a full picture of your processing activities.
Leave no stone unturned by answering six industry specific audit questionnaires that cover all business processes. Our platform suggests new questions based on your answers, allowing us to gather all the data we need to take your compliance to the next level.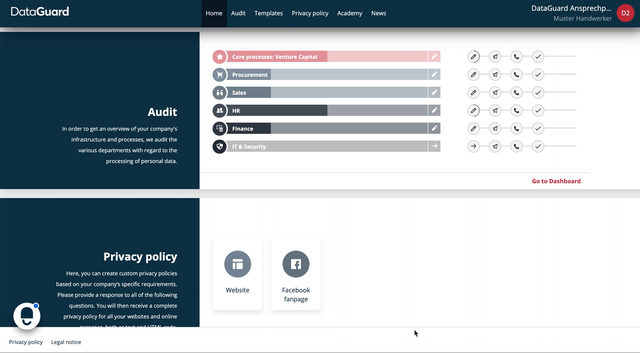 Access the documentation you need, when you need it
We collect hundreds of data points during the audit questionnaires, which allows us to create a full set of updated compliance documentation for you. This is stored inside our platform and is available to download whenever you need it. Versioning is applied to all documentation, meaning when a change is made, all of your documents are updated instantly - saving hours of work!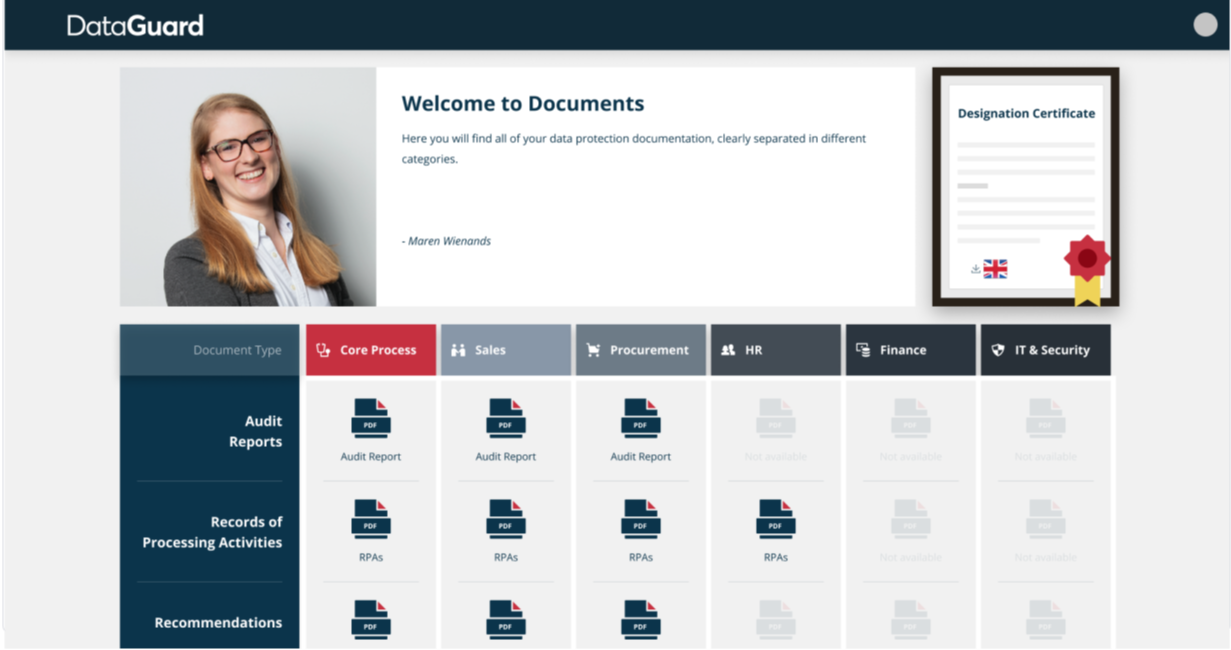 Get a step-by-step action plan to implement compliance
Ensuring that your business remains compliant can sometimes feel like a tidal wave of tasks and actions. DataGuard takes the stress away by delivering a prioritized to-do list.
Together, we tackle the biggest red flags first to ensure that your business is protected. Project manage your compliance activities by setting due dates and assigning tasks to your team members.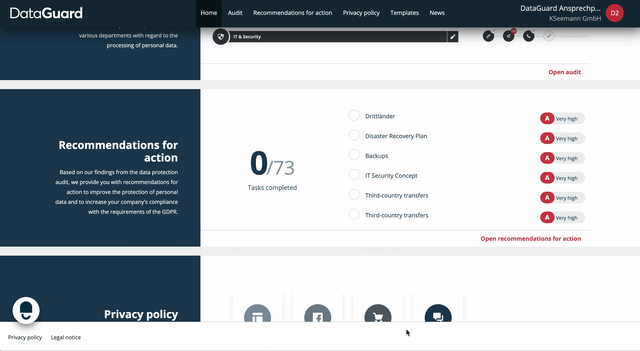 Reduce time-consuming activities thanks to intuitive automation
Writing privacy policies from scratch can take hours - but with our platform, you only need to fill out a short questionnaire. A new policy is generated straight away, ready to use.
You can also download pre-written templates created by our experts, such as a staff work from home policy. Simply download and customize!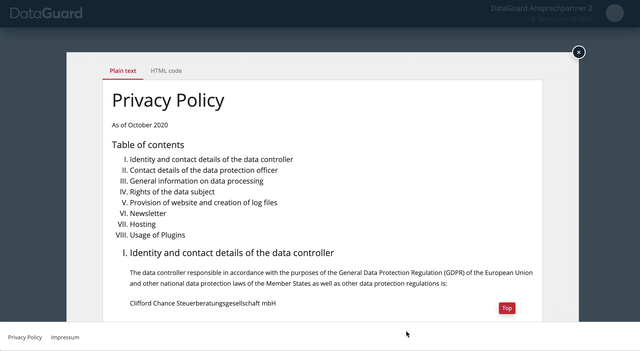 Stay in the loop with regular updates from our privacy experts
Keeping up with data privacy news is tough, especially if you are not an expert on the topic. Luckily, our specialists are closely aligned with the authorities, meaning they deliver the latest news and insights directly to you.
Access exclusive content on your News Dashboard, and browse new articles from the DataGuard Magazine.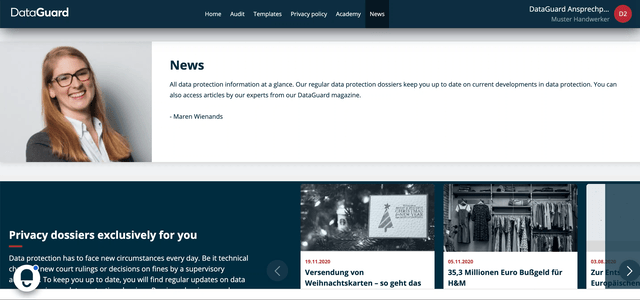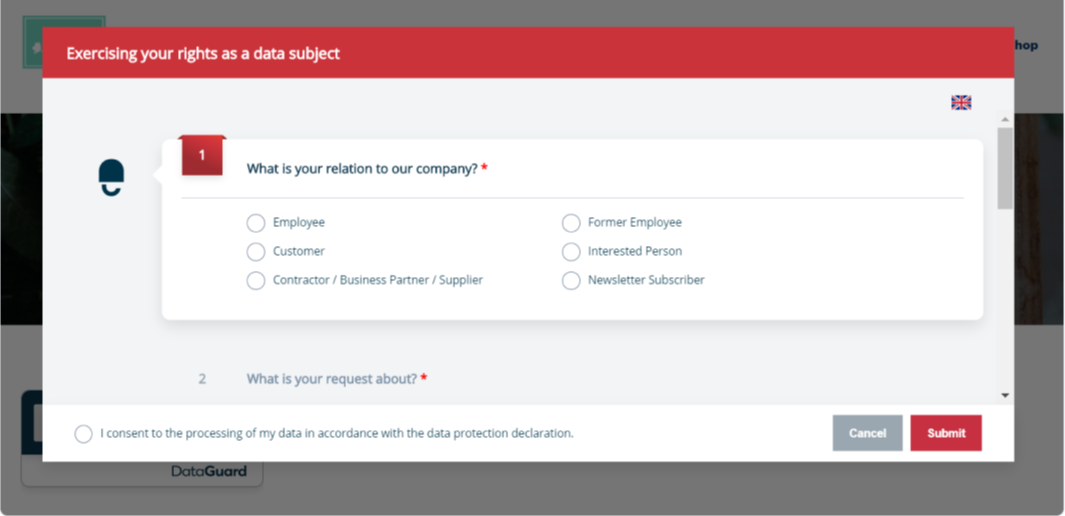 Build trust with your customers thanks to Data Subject Requests
Our platform simplifies the process of creating, sending and managing data subject requests. Copy and paste a widget into your website that allows customers to easily submit a request via a short form. All requests are managed in one place in the platform, where you can see recommended next steps, and the time you have remaining to respond to each request.