MAKE A DIFFERENCE. BECOME A GUARD.
SALES & CUSTOMER SUCCESS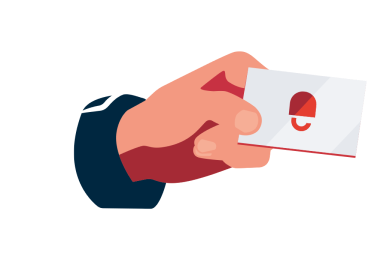 Do you love listening to prospects and customers to sell or ship them solutions that are really relevant to their business? Perfect! Join our Sales or Customer Success teams and be the trusted face of our company.
As a Sales Development Manger I'm in charge of the initial contact with potential customers, the introduction of new tools, or my very own projects. As you can see, my work is highly diverse, challenging and never gets boring. I get deep insights into different areas, consequently learning a lot every single day.
Since day one at DataGuard I've had intensive customer contact and many different interesting projects that I've been able to take care of from their conception until their implementation. I have a lot of great tasks that make me step out of my comfort zone on a daily basis and a great team that supports me.
If you're looking for fast development opportunities, this is the place to be! After 6 months as a Business Development Representative, I am now an Account Executive and I show corporate customers the value of our solutions and the benefits of handling customer data transparently. Looking forward to what the future here will bring!

1500
EUROS
TRAINING BUDGET
ON TOP OF YOUR SALARY

20
NATIONALITIES
COMBINING THE BEST OF ALL WORLDS

10
FRIDGES
PACKED WITH DELICIOUS SNACKS & DRINKS

4
OFFICE DOGS
FOR MOTIVATING CUDDLE SESSIONS
SALES & CUSTOMER SUCCESS
WHAT TO EXPECT
As the first point of contact for prospects you will be educating them about the importance of data protection and how our product can help them solve their headaches. We are not looking for the next greasy salesperson, but for a trusted privacy enthusiast who understands that fighting for a new client can never happen at the cost of violating our company's vision. By asking the right questions you will determine our prospects' individual needs and set the course for a long-lasting, fruitful and needs-based relationship.
Once a deal is signed, in Customer Success you will be our customer's trusted companion throughout their entire journey. By showing our customers that we really care about them and that we are not only a simple service provider, you will be reducing churn as well increasing customer satisfaction and loyalty.